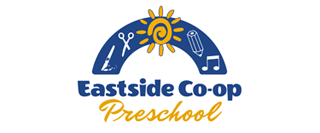 Eastside Cooperative Preschool is a community of parents, children, teachers, and parenting educators who work together assuming responsibilities to provide a flexible, stimulating, and welcoming early learning environment for children.
Your financial support keeps our preschool accessible through educational scholarships and by maintaining reasonably priced tuition for families. Funds raised also help us purchase educational supplies for our children and provide a budget for continuing education for our teachers.
​
​
​
​
​
​
To find out other ways you can help us raise money, visit our Sponsorship page for more information.
If you own a business or know someone who does, sponsorship is a great way to achieve name recognition within our community.
Sponsors receive:
- Event and pre-event naming on Facebook
- Inclusion in press releases and event programs
- Signage at events
- Press availabilities- Sponsored Post on Facebook Page
- Recognition on our website
- Recognition on promotional flyers for preschool used at community events
- Recognition in newsletters to ECP families
- Inclusion in the event
To find out more about other donation and fundraising opportunities, please contact our fundraising chair at ecpfundraiser@gmail.com.
​